true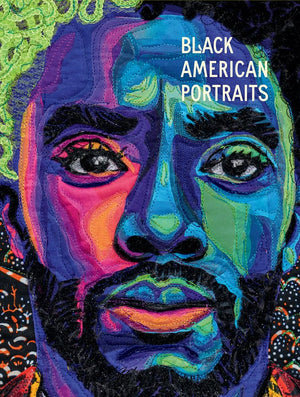 A celebratory visual chronicle of the many ways in which Black Americans have used portraiture to envision themselves
Spanning over two centuries from around 1800 to the present day, Black American Portraits chronicles the ways in which Black Americans have used portraiture to envision themselves in their own eyes. Remembering Two Centuries of Black American Art, curated by David C. Driskell at LACMA 45 years ago, this book is a companion to the exhibition of the same name that reframes portraiture to center Black American subjects, sitters and spaces. This selection of approximately 140 works from LACMA's permanent collection highlights emancipation, scenes from the Harlem Renaissance, portraits from the Civil Rights and Black Power eras, multiculturalism of the 1990s and the spirit of Black Lives Matter.
Countering a visual culture that often demonizes Blackness and fetishizes the spectacle of Black pain, these images center love, abundance, family, community and exuberance. Black American Portraits depicts Black figures in a range of mediums such as painting, drawing, prints, photography, sculpture, mixed media and time-based media. In addition to work by artists of African descent, Black American Portraits includes several works by artists of other backgrounds who have exemplified a thoughtfulness about, sensitivity toward and commitment to Black artists, communities, histories and subjects.
Artists include: Alvin Baltrop, Edward Biberman, Bisa Butler, Jordan Casteel, Njideka Akunyili Crosby, Bruce Davidson, Stan Douglas, rafa esparza, Shepard Fairey, Charles Gaines, Sargent Claude Johnson, Deana Lawson, Kerry James Marshall, Alice Neel, Lorraine O'Grady, Catherine Opie, Amy Sherald, Ming Smith, Henry Taylor, Tourmaline, Mickalene Thomas, James Van Der Zee, Carrie Mae Weems, Charles White, Kehinde Wiley and Deborah Willis.